All Debit Cards to Have NFC Function
In Austria, it will soon be possible to make purchases for less than EUR 25 by means of contactless payment. This means that the card will only need to be briefly held up to a POS terminal, and no PIN will need to be entered. Many local banks will be introducing this new function over the course of 2013, without giving customers a choice. futurezone asked when the new contactless cards will be available.
We have all seen it: The line is a mile long at the supermarket or bakery. Some people dig in their wallets for the exact change for what feels like an hour, while others need forever to get their debit card out and then enter their PIN code in slow motion. Both methods usually take about 30 seconds on average. But this wait is to be reduced by enabling people to make contactless payments. Then, it will take no more than five seconds to pay. This will be made possible by near field communication (NFC) technology, which allows data to be exchanged without contact over short distances of up to ten centimeters. This means that the antenna in the card will communicate with the POS terminal over the air.
New cards are coming
Visa and MasterCard already offer credit cards for contactless payment in Austria, called PayWave and PayPass. The technology provider Payment Services Austria (PSA) has now officially announced that it will soon begin upgrading debit cards in Austria with this "contactless function," which is branded with the PayPass logo. But each bank will decide independently when to start offering this function, and how it will inform its customers of the new options. The banks are all proceeding differently.
Erste Bank and Raiffeisen as pioneers
Erste Bank told futurezone.at that new cards issued starting in April 2013 will be equipped with PayPass and the Quick contactless function (which works like the Quick prepaid electronic purse, but the card no longer needs to be inserted). "In the autumn, the first large batch will be sent out to customers during the annual card renewals. All cards will be equipped with this functionality by 2015," explained Michaela Riedinger from Erste Group Bank AG. Raiffeisen also plans to start its rollout in the second quarter of 2013. Volksbank said that it will introduce the system "as part of its normal business at the earliest possible time."
BAWAG P.S.K. and Bank Austria will not begin rolling out cards with PayPass and Quick contactless until the middle of 2013. But BAWAG P.S.K. has already completed a "large scale" pilot test. "We invited our employees to participate in this trial. We have issued about 400 contactless debit cards to test users. The NFC cards can be used in our own cafeterias and at the 2,000 establishments where NFC cards are already accepted," Markus Gremmel, director of payment transactions, told futurezone.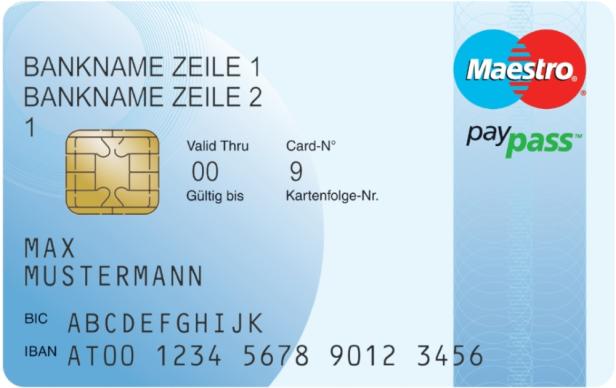 Only BAWAG P.S.K. will let customers choose between cards
But can customers decide whether or not they want to have this new "contactless function" on their cards at all? Of the five banks that were asked, only BAWAG P.S.K. will allow its customers to choose between the two types of cards (with and without NFC). "We do not plan to simply give customers this functionality without asking them as part of the normal replacement of expiring cards. Only customers who explicitly wish to have an NFC card will be given one," said Gremmel.
But Raiffeisen Zentralbank is doing things differently: "All debit cards will be equipped with the PayPass function for contactless payment the future. Customers can decide whether or not they want to use the function. If a customer wants to have a debit card without an NFC function, it can be deactivated," said Martina Schweighart-Cordova Velasquez from Raiffeisen. Debit cards from Erste Bank, Bank Austria and Volksbank will "all be equipped with the contactless function."
Four million cards replaced by the end of the year
By the end of the year, four million debit cards with the NFC function will be in circulation, said Rainer Schamberger from Payment Services Austria (PSA). What will be problematic will be when customers are not sufficiently informed of the fact that there is a separate technology behind the contactless function, namely NFC. Because not only the card holder but also potential thieves can make contactless payments with the card – but no more than four times in a row, for a maximum amount of EUR 100 per card. But most banks are planning an information campaign to coincide with the rollout.
Even though the NFC card is "marginally more expensive" to manufacture than previous card types, the banks are not going to raise their debit card fees. All five banks confirmed this when asked by futurezone.
Switch to NFC terminals the most important factor
The real crux of the switch to NFC will be whether or not there are enough POS terminals installed at merchants by the summer, because you can only make contactless payments where the PayPass logo is displayed on the terminals. Right now, contactless payments are only possible in a few places like some
,
and Schlecker (which will be called Dayli in the future) stores, or at
using Quick NFC. Further major chains such as McDonald`s (which also participated in the
) have expressed "interest" in converting their terminals.
New pilot project launched at REWE
"We are currently examining the options for contactless payment. But there are not yet any concrete plans to introduce this form of payment at the retailers of REWE International AG in Austria. Talks are currently under way," it said in the official statement from REWE, which owns all Merkur, Bipa, Billia and Penny stores. But other sources have revealed that Bipa recently launched a new pilot project for "Mobile Payment with NFC."
The Bipa project is the first to start under the PALOMA initiative, a source told futurezone. The NFC debit card will also be integrated in the virtual mobile wallet starting in the second quarter of 2013. The source said that they are "in the middle of implementation." The goal of the PALOMA initiative is to facilitate widespread payment and the use of customer cards through smartphones by establishing an open and interoperable NFC infrastructure. It will be officially announced in February. In addition to Bipa, follow-up projects will be launched by further retail and industrial partners in 2013.
According to Kurt Tojner, managing director of Visa Europe in Austria, VISA has identified 25,000 terminals that would be especially ideal for the contactless payment of smaller amounts, for example in supermarkets and copy shops. These terminals are to be fitted with NFC in the next 18 to 26 months.
Interoperability between the terminals and providers
According to industry sources, the systems and terminals are all to be compatible with each other, which means that the terminals from the different providers like Paylife, First Data and Card Complete will have the ability to accept all Maestro NFC debit cards along with the standards for Visa and MasterCard credit cards and any mobile wallet solutions that may be launched for smartphones in the future. Because the local mobile communications providers are also engaged in talks and are beginning to take a common position. To establish the contactless payment technology on the market, it will be important for consumers to be able to use the system regardless of their mobile communications provider or the specific NFC terminal.