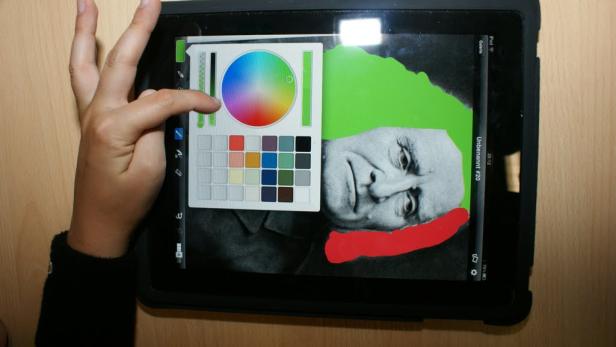 Tablets Instead of Textbooks: Publishers Remain Skeptical
Dieser Artikel ist älter als ein Jahr!
Two classes at the Jennersdorf secondary school in Burgenland have stopped using atlases printed on paper. There's no Bible or German or English dictionaries either; information is found digitally on Apple's iPad. One advantage, according to school principal Hannes Thomas, is that "pupils searching digitally for the word `beautiful` in English also hear the word spoken by a native speaker." Geography class relies on Google Maps and additional apps, some of which can simulate earthquakes. "That is something you can't get from a book," Thomas told futurezone. The school director is a Tablet advocate who believes the future of learning will be more touch-screen and less paper-and-ink.
Similarly convinced is Barbara Zuliani, a teacher of an iPad class at an elementary school in Breitenlee. "It is exactly those topics which are hard for children to comprehend which are made more accessible through the application of digital media," believes Zuliani. As an example, the teacher displays a volcanic eruption. This can be visualized through video, described in a text, or experienced through apps, which can simulate quaking and its results directly to students.
Both schools could benefit from an announcement which Apple recently made at an educational event in New York.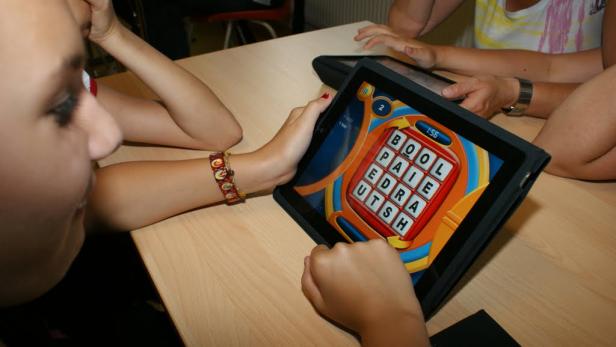 "Looking for Content is Very Time-Consuming" Hannes Thomas says it is currently difficult to find useful educational content. "This often requires evenings of work. To find the appropriate content is very time-consuming." Michael Steiner is a religion teacher at the Laabergstrasse high school in Vienna. He also foresees a great future for the use of Tablets in the classroom, but says he has not yet found enough German-language apps which he can use with his students. But he goes on to add that his students already frequently use a Smartphone app to analyze passages out of the bible.
Martin Ebner is an e-learning expert at the Techinical University of Graz. He and his students have devised a free educational app during an event called iPhone Development. This includes a 1 x 1 calculator and other interactive educational games. "You can't teach with apps alone because each addresses a single problem. Also, complex applications cannot be added on because this might overwhelm the young user," explains Ebner, who does believe that apps are good for addressing specific questions.
Digital Content Since 2003/2004Schoolbook publishers continue to see schoolbooks as the primary medium for teaching. Additional digital content has been available from publishers in Austria since 2003-2004 within the framework of a concept called Schoolbook Extra, or SBX. "Additional online content is increasingly being purchased privately by both parents and students alike," says Michael Kernstock, chairman of an Austrian trade association for book publishing and media.
"Schoolbook publishers are very open to both the content and preparation of new media," adds Kernstock. Intensive work on educational e-content has been ongoing since 2002, but demand varies according to region, the type of school, and the subject being taught. "When one looks at the general overall book market, e-books in Austria currently make up 0.1 percent of sales," according to Kernstock.
"Digital Media Offer No Advantage"In contrast to technology-friendly teachers, Austrian school textbook publishers remain unconvinced about digital content. "There are divergent opinions. Kids prefer cyber homework, but usually fall back on traditional paper notebooks when preparing for exams," says Kernstock. Lukas Birsak, the general director of the school textbook publisher Hölzel, has a similar viewpoint: "There are serious reservations that digital media offers a better way of learning. In contrast, many say digital learning has brought a loss of concentration, exactness, communication and the critical processing of information."
Michael Kernstock believes that teachers, parents and students will continue to prefer printed textbooks as the primary teaching medium in Austrian schools. He says there is now no great outcry to change this situation. Financing is a factor, as is infrastructure (WLAN in the schools). Also playing a role are the types of schools (public or private), and which types of devices (Tablets, Smartphones or Netbooks) are preferred. "There is currently no national standard. If content is also not available in print, than many children without computer access will be left out of the educational process," says Jens Kapitzky, the managing director of the Austrian Federal Textbook Publishers.
"A Closed Environment is a Problem"Christoph Derndorfer of OLPC Austria has a critical view of iPads in the classroom. "Aside from the issue that this is being used to push Apple products to students, I see a much bigger problem. Apple is a closed system. A company, and not the education ministry or other school authorities would then have unbelievable influence on what is being taught and how." Especially in the field of education is it important that open technologies, platforms, software and content are developed. Martin Ebner at the TU of Graz is less skeptical: "Apple is a stakeholder in this sector, which will soon lead to other options from other computer companies."