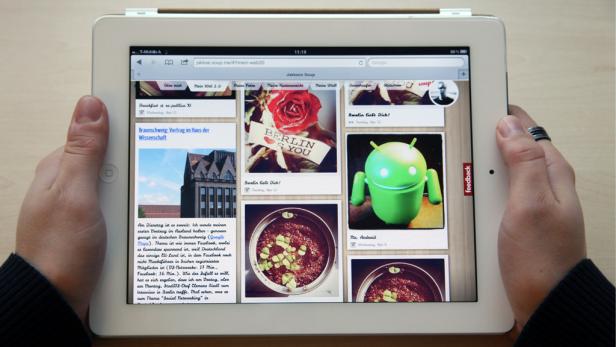 Vienna's Answer to the Facebook Timeline
Dieser Artikel ist älter als ein Jahr!
Beautifying the Internet was one of the greatest Online-Trends of 2011 and it reached its zenith with the Facebook Timeline. As less and less start-ups are mining user data, the next logical step is to edit and present available data in a more attractive manner.
It's exactly at this intersection where the Austrian start-up and longstanding insider favorite Soup.io wants to pave the way. With the new release of their Tumblelogs feature, and a healthy six-figure investment from Vienna based SpeedInvest, Soup.me's "fly or die" founder and CEO Christopher Clay is putting all his eggs in one basket. Instead of competing against Tumblelogs like Tumblr and Posterous, Soup.me's direction is to give a face-lift to the user's entire (public) digital life and enhance it.
Facebook preparing the way"I was amazed to see Facebook adopting this course. It is daring, because this is not to everybody`s taste", says Christopher Clay. "I don`t see this as a danger for Soup.me, but as a confirmation." Soup.me plans to evolve more to a "platform for self-promoters, in the positive sense" and assist people in creating a one-of-a-kind profile to help them stand out amongst the Facebook crowd of millions of users says Clay.
The familiar target group will be creative people, journalists, bloggers, and artists. Soup.me's official launch is scheduled to coincide with the upcoming SXSW festival in Austin, Texas this March. Current Soup accounts will be gradually migrated to the new system and Clay and company are striving for 100,000 new users by mid 2012.. By continuing their current path of success Clay, also wants to move the company to the San Fransisco, Silicon Valley, to be more precise. Soup.me will be confronted with some new competitors of the US market: Web services including About.me and Flavors.me currently offer users the possibility to compile their existing web content from a variety of Web-2.0 platforms - from Twitter to Facebook to Flickr-all into one appealing presentation.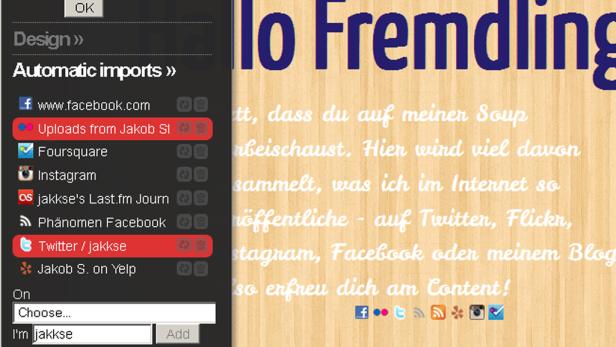 © Bild: Screenshot
Soup.me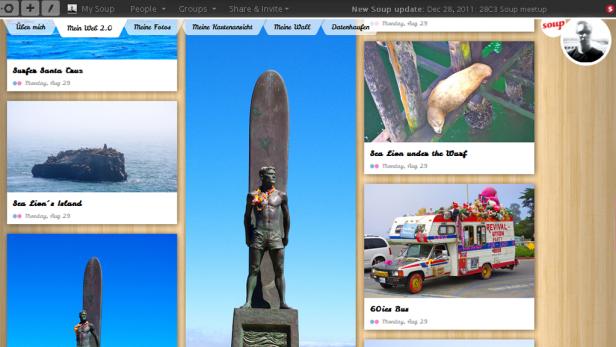 © Bild: Screenshot
Soup.me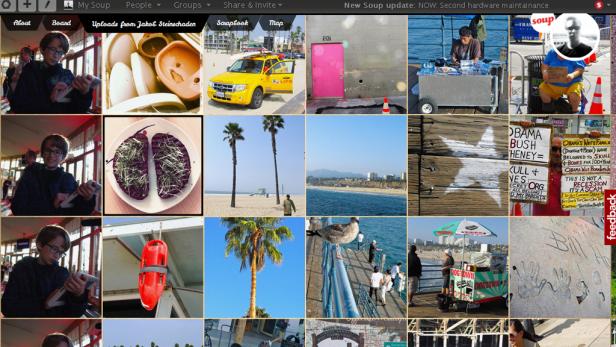 © Bild: Screenshot
Soup.me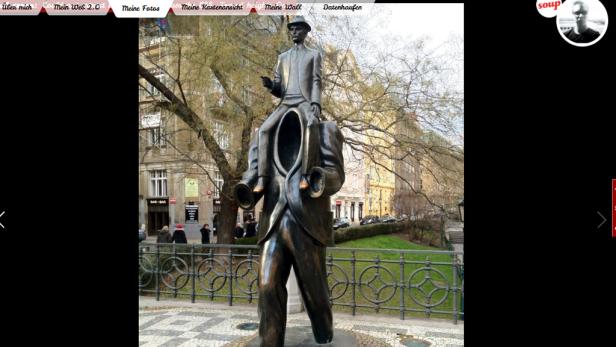 © Bild: Screenshot
Soup.me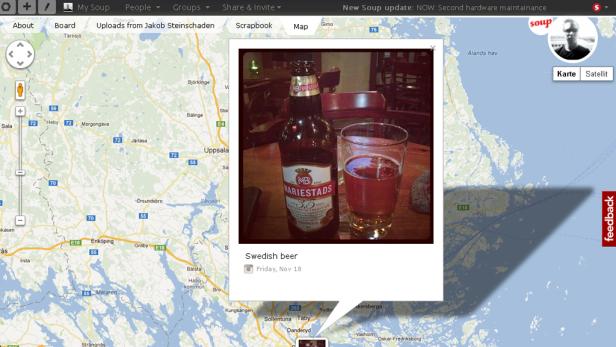 © Bild: Screenshot
Soup.me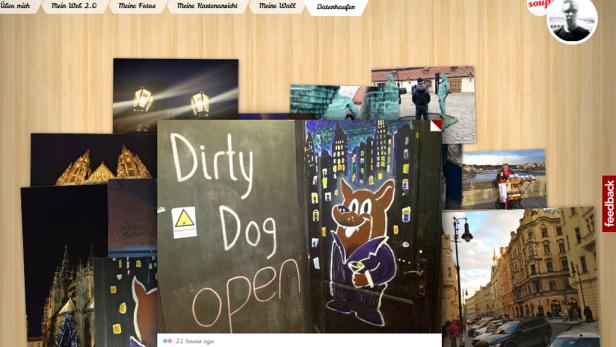 © Bild: Screenshot
Soup.me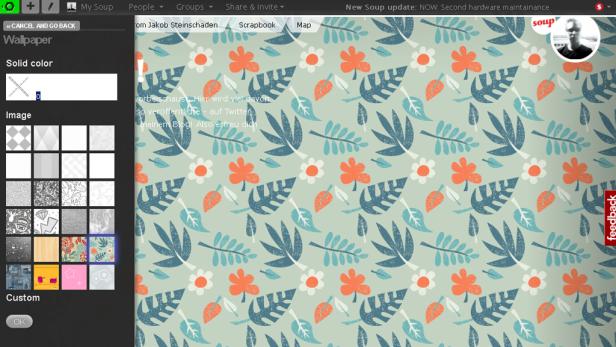 © Bild: Screenshot
Soup.me
Futurezone has already tested the new Soup.me in its alpha-version … . If you're interested in taking the alpha version of soup.me for a spin, head on over to the Soup.me-Showcase that was established for ski jumper Gregor Schlierenzauer. Here`s an overview of the features you can expect to find in the new "Soup":
1) Tap your own resourcesIf you want to feed content to your Soup.me account, first you'll need link it with other web services. Facebook, Twitter, Foursquare, Yelp, Instagram, DailyBooth, Soundcloud, eBay, Flickr, Last.fm, Picasa, YouTube, RSS-Feeds; wherever you may already have shared your own data on the web, you can now put them all together in Soup.me. The basic rule is: All your posted data (like the ones accessible for all on Facebook) will be imported. The missing web services in the long list of those available are: Google+, LinkedIn, XING and Spotify.
2) A Variety of presentation forms"A chronicle is just one form of presentation among many, many others", says Soup chef Christopher Clay hinting at Facebook Timeline. Soup.me offers a wide variety of widgets to help users design their sub-pages, with all widgets accessable via the top navigation bar. With the "About me" widget you can create a large background into which you can add some welcome text and other links to your connected websites. Other widgets offer geo-referenced data (Instagram-Photos, Foursquare check-ins, etc.) displayed on a Google map. Flickr, Facebook, and Picasa photos can all be grouped in a picture gallery, creating a digital scrapbook. Likewise, large data sets including blog posts, tweets and pictures may all be included. Soup.me plans on adding plenty of new widgets to automatically sort available data according to various criteria including metadata, tags, topics, and more in the near future.
3) Moderate ease of useSince Soup.me has more technical aspirations than its rivals About.me and Flavors.me, you can customize nearly every single detail of your own profile right down to the size of the font and background. This makes Soup.me sometimes difficult to operate. Dividing between "settings" and "edit mode" does not necessarily add to its usability. It can take hours to fully adapt Soup to your own needs.
4) Editing new contentThe "+" button on the upper left side makes it easy to post text, photos, links, videos, events or documents. However, creating new content on the platform directly has now been pushed into the background to make way for external resources.
5) Very promising for iPadSince Soup.me was mainly developed to function as a substitute for a home page, they decided for now to go without native apps for iOS, Android, etc.. Instead, they invested plenty of time to adapt the Soup profile to the iPad display size and its touch screen interface. You can now literally stumble with your fingers through the scrapbook or flick through the photo galleries.
6) PrivacyBy and large, Soup.me was developed to showcase your data and not as an online social network where you can share your privacy. Three options are available: "Public" to enable people to find your profile via a Google search for example; "Stealth" to enable anyone who knows you and follows your link to reach your Soup profile, and "Private" to enable only Soup users to access your profile. Soup recommends the "Public" option for the highest visibility..
7) What kind of business approach?Clay wants to apply the "free of charge rule" for Soup.me; Basic use and a few widgets are free. Users that want more possibilities to showcase themselves will have to spend a little more.