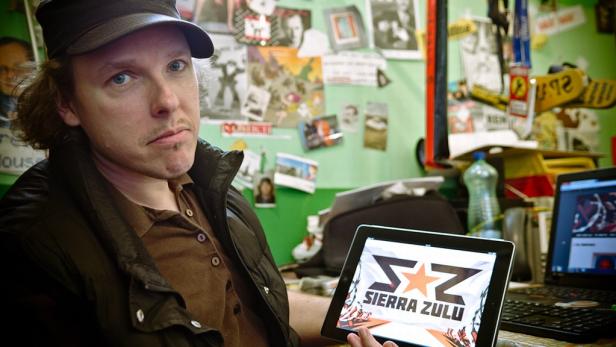 Sierra Zulu Draws Attention to Soviet Austria
Dieser Artikel ist älter als ein Jahr!
And so opens Monochrom/Golden Girls` "Sierra Zulu", a film project currently in the works, featuring top talent including Alfons Haider, The Yes Men, Jeff Ricketts, Dirk Stermann, and a voice role provided by none other than Steve Wozniak. I recently sat down with Monochrom`s Johannes Grenzfurthner to discuss his ambitious project, the threat from the East, and a global pool of talent focused on a tiny Austrian village.
The idea for Soviet Unterzoegersdorf, or Sierra Zulu, as denoted by the NATO phonetic alphabet has been a long running theme for Johannes. Having grown up in nearby Stockerau, the village always held a rundown, "this is what I would imagine a Soviet village to look and feel like," place in his heart. This idea first came to fruition in 2001 whenMonochrom wanted to celebrate the 10-year anniversary of the collapse of the Soviet Union.
The idea led Monochrom to examine the idea of history, how history works, who`s writing history, and what perspective do different people have on the same event. Combining these thoughts together with the previously presented idea of "Soviet looking/feeling" Unterzoegersdorf, and it`s associated Soviet occupation from 1945-1955, the seeds for Soviet Unterzoegersdorf were sown.
"Wouldn`t it be a good idea to really design that place? Think about how it`s working, think about how Austria has reacted to that in the 1970`s, with Kreisky, etc. We really wanted to play with that idea," says Johannes. From here Monochrom launched a fully interactive theatre piece that shuttled residents from Vienna to Soviet Unterzoegersdorf where they were greeted by Monochrom team members dressed in, and acting their Soviet parts.
Video Game Triology
Based on the interest and response to the action that Monochrom received, they decided to take the concept to the next level, and in 2005 and 2009 released parts 1 and 2 of a video game trilogy that revolves around this central storyline. Both games are available for free, with the first title garnering almost half a million downloads. By the time the second title was released, the Soviet Unterzoegersdorf had picked up more steam, this time attracting celebrity voice talent, including an appearance by MC Frontalot on the games` artwork.
It was around this time that Monochrom started thinking even bigger. After video games, and besides television, there`s only really one place bigger to go, and that`s the silver screen. "I`ve directed many short films and theatre plays. But we always wanted to do a feature film, but doing a feature film is really expensive. It`s always easier to get money to do small things, but doing a film, you need a sh**load of money," says Johannes.
With a proven idea and execution, and a desire to spread the message as wide and far as possible, Monochrom joined forces with Vienna based Golden Girls film production company, specifically Arash Riahi.
Funding
While having a production partnerin the ever-so-tricky film industry is always a plus, for Monochrom the advantage is two fold: Not only do they find support in a professional film production company, but this also allows them to receive additional funding from the Austrianfunding institutes. "Of course you can only get money from the Austrian Film Institute or the Vienna Film Fund if you have a mainproduction company that ... well, knows what they`re doing. The folks at Golden Girls are professionals, and we are professionals. It made total sense to combine our creative forces."
Speaking of money, Johannes informs me that due to working with American actors and companies, Monochrom quickly discovered that establishing an American based entity would make things work a lot smoother, but that there`s also an additional upside to founding Monochrom Propulsion Systems LLC. "It`s good to be an Austrian-American co-production because you fulfill all the quotas American film festivals need. There are some film festivals that only take a certain number of European films. Since we`re planning an international production, this would be bad if we were rejected from some festivals simply based on a quota system." And commenting on the company`s name, Johannes adds, "It`s always good to have a reference to Buckaroo Banzai in a title."
Given the odd nature and subject of the Sierra Zulu project, Johannes admits that finding funding has been an uphill challenge. "Everyday, I talk to people who love the idea, love what we`re doing, but inevitably ask me, `Where are you getting the money to do this?` So, at the moment, the good thing is that we`ve attracted so many talented people who are simply interested in the idea, just want to be part of the project, because it`s so strange, and at the same time so political, and so appealing, so ... funny."
"It`s a dark, political, sci-fi, comedy."
In today`s entertainment industry the vast majority of directors, producers, and theatre goers want to categorize a film and know exactly what they`re getting into, before they get into it. To this end, I asked Johannes to categorize Sierra Zulu. "It`s a dark, political, sci-fi, comedy. It`s engaged in politics, but at the same time, we`re trying to find the perfect medium to sell a message, and the message is that we want to talk about technology, the change of technology, how society changes due to technology, how capitalism changes through the digital age; so the film is pretty much about the information society."
When talking about a 21st century issue, the information society, and a political system popularized in the 20th century, communism, there`s certainly room for doubt about the synergy, but Monochrom is seeking to bridge this gap by doing exactly that, allowing these two ideologies to collide, conveniently in, you guessed it, Soviet Unterzoegersdorf.
"There are still films about bank robberies, but let`s be honest, the biggest financial crimes today aren`t happening in banks, they`re happening on Wall Street. This is happening in the completely abstract datasphere. Capitalism is dependent upon this commodity of speed. Making a film about a bank robbery is maybe funny, but it`s completely anachronistic. We have to tell the stories of the 21st century, specifically in a way that people can relate to it," says Johannes.
The Power of the Internet
It`s exactly this philosophy and storyline that`s attracted top talent from around the globe. Johannes informs me that a number of people on the production crew have arrived solely via the Internet. "Boingboing.net posted the TED talk that I gave about the film project, and suddenly we had thousands of emails pouring in with people wanting to be involved in the project. We`ve met a number of talented people this way."
And it`s not just fans and "I want to help!" people that are arriving at Monochrom`s front door, but top Hollywood talent, including the film`s lead CGI artist, Aaron Muszalski, who`s credits include Star Wars: Episode I, Star Wars: Episode II, Sleepy Hollow, and a 10-year stint at LucasArts and Industrial Light&Magic.
Talents
In addition to the talent arriving behind the camera, Johannes informs me of a number of notable talents that have already committed to the project. No contracts have been signed yet (funding, production dates, etc.), but Johannes does have a number of letters of intent in hand. In addition to those mentioned above, cast memebers include: Amber Benson who played the role of Tara Maclay on the long running television hit Buffy the Vampire Slayer, Max Grodénchik, who`s credits include a 6 year run as the Ferengi Rom on Star Trek Deep Space Nine, Robert Picardo, of Star Trek Voyager and Stargate fame, and serial entrepreneur Joi Ito, who`s credits include investments in Flickr, Six Apart, Last.fm, and Twitter, adding further authenticity to the information society message portrait in the film.
"In the film, the UN peacekeepers have a piece of machinery from the 1980`s, and this old piece of machinery will have the voice of Steve Wozniak. It took me half a year to get Steve`s agent to forward along the email, but Steve replied almost immediately saying, `That sounds like a good natured and great film, I`d be happy to do that.` Our agreement now is that he`ll record the 25 (or so) lines that we need from him from home, and we`ll clean it up and process it here on our end. We`re hoping to see him at the premier!"
Release in 2014
Johannes and the Monochrom/Golden Girls team are currently in the process of finalizing their grant applications, and are eagerly waiting to hear if they will be awarded the necessary funds to fully realize the feature film. The team has previously been awarded a smalldevelopmentgrant, and produced "Earthmoving, a Sierra Zulu Prequel" in order to not only drum up interest in the film, but also to demonstrate to the Austrian government the merits of such a project, and that it could be executed by the team. If all goes well, Johannes informs me that production of the film should begin in March or April of next year, with a projected release date of 2014.