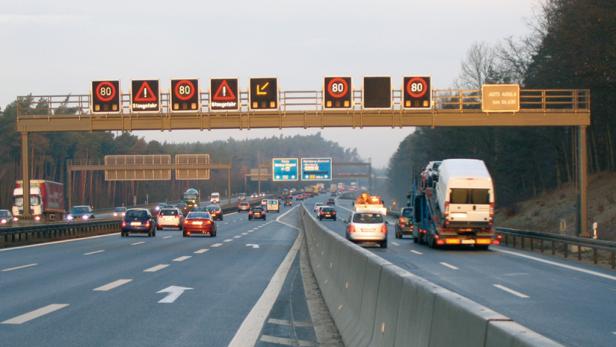 Austria is Big in Transport Technology
Dieser Artikel ist älter als ein Jahr!
In many fields of traffic engineering Austrian companies may count themselves to be the market leaders. At Intertraffic in Amsterdam, one of the biggest trade fairs for intelligent transport systems (ITS) worldwide, visitors had the chance to get an impression of both well-known and smaller companies. Many of these companies will also be present at the 19th ITS world congress, which takes place from the 22nd to 26th of October in Vienna.
One of the best-known companies in the traffic engineering business is Kapsch. Kapsch TrafficCom of the Vienna-based group is the global leader in toll systems. The company was given the security innovation award for their automatic camera calibration system (ACC) at Intertraffic. Part of the ACC is a vehicle which transfers detailed data on geometric reference points on, and pictures of, stretches of roads to special software. The ACC delivers faster and more precise results than measurement methods that have been used up to now.
Data which is acquired through this are used for Kapsch`s Incident Detection System (IDS). This helps tunnel clerks to get an overview of dangerous situations, potential or real, and to be able to react promptly in order to prevent further accidents.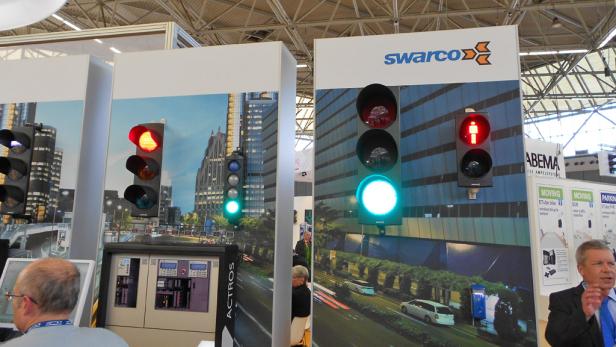 High Calibre
Skidata, located in Gröding in Salzburg, is a company which anyone who has ever used a ski lift should be aware of. Skidata is market leader in the field of access control systems. As well as ski-lift turnstiles they also produce various other barriers. Their latest product is called Barrier Gate, a barrier which is equipped with internet access and is part of a cloud-based access control system called sweb. The system allows remote supervision of the barriers and collates statistics on occupancy rates and turnovers. Skidata, although present across the globe, produce their barriers in Austria.
Swarco from Wattens, Tyrol, are less known outside the ITS-world. They produce signalling equipment and are the world`s biggest manufacturers of traffic lights. One thousand two hundred are in use In Vienna alone. At Intertraffic the company presented its energy-saving technology, which will replace light bulbs in traffic lights. Swarco expects great changes in this area and sees itself as the leading innovator in the use of LEDs in road traffic management. Among their signalling equipment they also offer entire traffic management systems, one of which was installed for the EURO 2012 championships in L`viv in the Ukraine.
One of the world`s largest suppliers of intercom-systems is also located in Austria. Commend, a company from Salzburg, showed its communication stations, which are better known as SOS telephones or panels, at Intertraffic. As a counterpart Commend also distributes complete easy-to-use control stations including gadgets like lip-sync-software. Their latest product is the Software Intercom Server, a Linux-based programme which combines all the functions of a control station on one display. Commend focuses on the barrier-free construction of all intercom systems and therefore incorporates Braille, pictograms, switches and also invisible features such as sensor loops in the ground in front of SOS telephones that are able to recognise hearing aid devices and send certain signals to intensify the sound.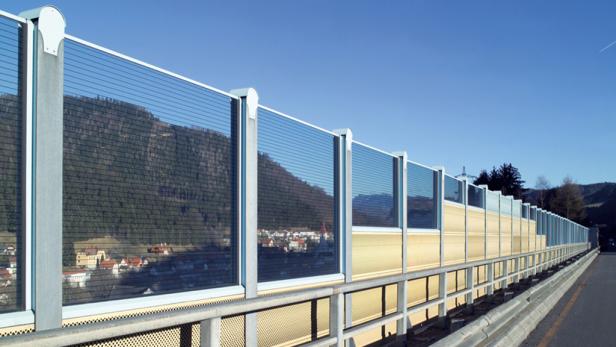 Special Know-How
The company DELTA BLOC, part of the Kirchdorfer-group, is from Sollenau in Lower Austrian. It specialises in noise protection walls and vehicle restraint systems. The latter are protection walls made of concrete, as seen on highway boundaries. DELTA BLOC has gained an excellent reputation in that field and exports throughout the world. Their production has been totally outsourced. They focus on concrete protection walls because they only need a little time to be produced and erected, and because of their high impact resistance and long-life cycle (about 50 years). The company currently employs 35 staff and has clients spread over 30 countries.
c.c.com from Graz was one of the first companies worldwide to use Bluetooth technology for traffic analysis. Their package BLIDS is a range of hard- and software used to visualise traffic streams and road capacities which can help to plan and evaluate road construction projects. Bluetooth suits traffic analyses because the devices can be clearly identified but the owners stay anonymous. About 35–38% of all vehicles have a Bluetooth interface according to the result of a test of c.c.com. As well as road movements BLIDS is also able to analyse streams of visitors to events, for example at the Donauinselfest. c.c.com have made their mark in Germany, Austria and Switzerland and they are now looking for further international clients.
As well as Kapsch, Efkon from Raaba near Graz are also one of the leading firms producing toll systems. Among other projects, Efkon has provided the onboard sensors for the lorry toll system in Germany. The firm invests in all the relevant technology: microwave, infrared and GPS for number plate photography. Systems for traffic and parking space monitoring are also part of their portfolio. They offer complete solutions or single products. At Intertraffic Efkon presented the I-to-I-Reader, a compact reading device with a camera and infrared flash for various uses, e.g. entrance and border control or vehicle recognition.
Traffic Safety
Franz Janchitz Ges.m.b.H from Althofen, Carinthia, had a world-first for the trade fair. The supplier of traffic safety products presented the X-Cone, the first fully automatised placing and gathering system for traffic cones for installation on a light lorry. The vehicle moves at 6 km/h, while a crane places the cones independently, on one or both sides or in the front and back. The driver doesn`t need to leave the vehicle, which greatly increases safety. Director Franz Janschitz has experienced great interest in the X-Cone, with requests coming in from Austria to Australia.
The Swarovski-affiliate Swareflex is well-known in many countries for its glass reflectors and now also for LED lighting. LED lights now appear on street signs and tunnel guide lines, and sometimes also on the street surface. In East Asia, for example, they are used for lane-change markings. Swareflex is active in 74 countries, even if the products from Wattens, Tirol, are not the cheapest. They are extremely high quality and a company representative proudly spoke of being the `Mercedes of the sector`.
Noise Protection Walls
Forster from Waidhofen an der Ybbs, Lower Austria, also work with LED technology. They produce an LED variable message sign, seen on the overhead signs on highways. Their product portfolio is varied. Aside from traffic signs, Forster offers signage, storage rack systems, advertising technology, porous printing and noise protection walls. Their clients mainly come from Germany, Austria and Switzerland, but also from the Middle East, Hong Kong or Scandinavia. About 750 staff work for the company.
The Rieder group from Maishofen, Salzburg, is currently searching for international partners to help them produce and distribute their noise reduction walls in far-flung countries. A delivery over more than a few hundred kilometres is not efficient because of the high product weight. The plates which are a mixture of wood and concrete have a very long life, as well as being maintenance free and stable. Noise reduction walls made from wood and concrete are – aside from their use on highways – also used as borders for railway lines.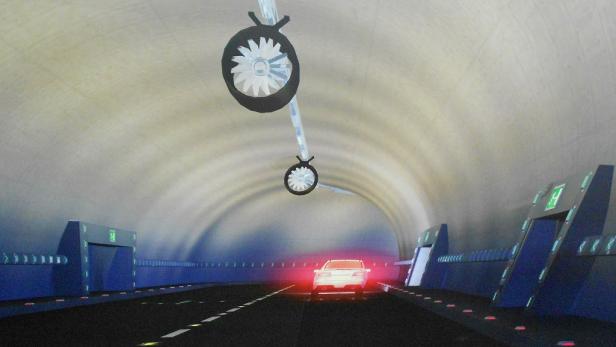 IST – a World Congress in Vienna
The most visible Austrian presence at the trade fair was probably the stand of Advantage Austria. Under this brand the Austrian Chamber of Commerce (Wirtschaftskammer) has created an opening for smaller domestic companies onto the ITS scene. From the 22nd to 26th of October Austrian traffic technology and ITS companies will be able to present themselves at the 19th ITS world congress. The ITS world congress takes place yearly, alternating between America, Europe and the Asia-Pacific region. 2012 is Europe`s turn and 300 companies from 65 nations will come to Vienna to show their products. To add something special to the congress, AustriaTech and its partners have developed a special smartphone navigator app.
Congress Navigator App
The congress navigator will be available from May for iOS, Android and in a mobile-browser version. It will make a visit to the trade fair an interactive experience, not only for professional visitors but for everyone. The app enables you to create a personal profile to put together a personalized congress diary. The data of visitors who register for the congress via the internet can be easily transferred to the app. The app will provide information regarding all the events and seminars of the congress. User can also supply contact data and feedback to the lecturers.
In October the congress halls will show numerous labels with QR  tags in October. With the QR reader integrated within the app you can pull up additional information and also use the tags to create an indoor route planner, which should help guide you through the labyrinth of stands and aisles. Furthermore, a gaming element will be introduced; the app can be used to check in at different events, so completing different levels. October 25th will be a public day, when anyone may visit the ITS world congress. For those people the app`s Austria Challenge will be about getting the best overview of the domestic contributions. If the app is successful it will be one more Austrian ITS product to make an international impact.