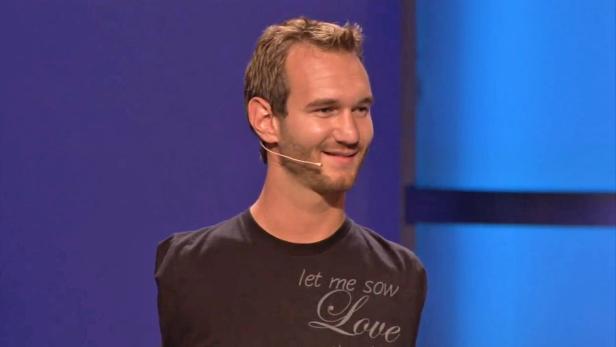 Nick Vujicic: Online hero without limbs
Dieser Artikel ist älter als ein Jahr!
"No arms, no legs, no worries," is one of the messages that has made Nick Vujicic famous around the world. The Australian with Serbian roots uses numerous channels, above all the Internet, to tell the world that you can achieve anything, even despite gigantic hurdles. The 30 year old has become a popular motivational speaker, an icon for many Christians, and an online phenomenon in a non-religious context.
A way out of the crisis
Tetra-amelia syndrome is the name of a rare genetic defect in which a person is born without arms and legs. The only limb that Nick Vujicic has is a left foot with two toes, which is jokingly calls "chicken drumsticks" in his speeches. While growing up in Melbourne, Vujicic did not always have an easy time coming to grips with his disability. In elementary school, he was frequently the target of bullying and fell into depression, including more than one suicide attempt.
His discovery of the Christian faith changed everything. In the beginning, he asked God in his prayers to give him arms and legs. Later, Vujicic started to accept his condition and to see it as an opportunity to be a model for people around him through his actions. He learned how to write and use a computer with his foot and a prosthetic device. He claims to be able to type up to 45 words a minute with two toes and his heel. He can operate an electric wheelchair with his toes. And he can make music on a beat generator with pedals.
He held his first motivational speech at the age of 19. He also studied accounting and financial planning, and earned a bachelor`s degree in both subjects.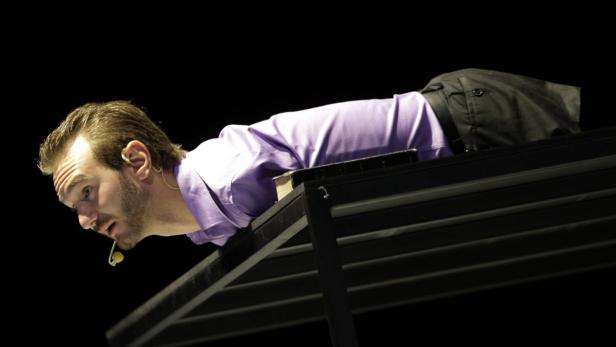 © Bild: REUTERS
REUTERSNick Vujicic, a motivational speaker born with Tetra-amelia Syndrome, a rare medical condition that left him without limbs, participates in a conference as part of the Fourth World Meeting of Human Values in Monterrey October 27, 2012. The focus of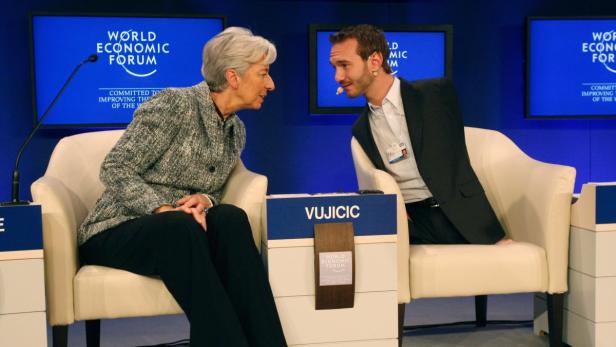 © Bild: dapd(c) AP
dapdFrench Christine Lagarde, left, shares a word with Founder and President, Life Without Limbs, Nick Vujicic during a session Inspired for a Lifetime at the World Economic Forum in Davos, Switzerland on Sunday, Jan. 30, 2011. The WEF wraps up its final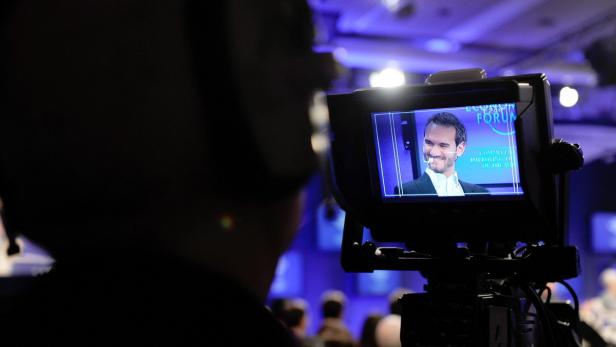 © Bild: EPA
EPAepa02556609 Nick Vujicic, Founder and President, Life Without Limbs, seen through a TV screen during a panel session at the end of the 41st Annual Meeting of the World Economic Forum, WEF, in Davos, Switzerland, Sunday, January 30, 2011.The overarching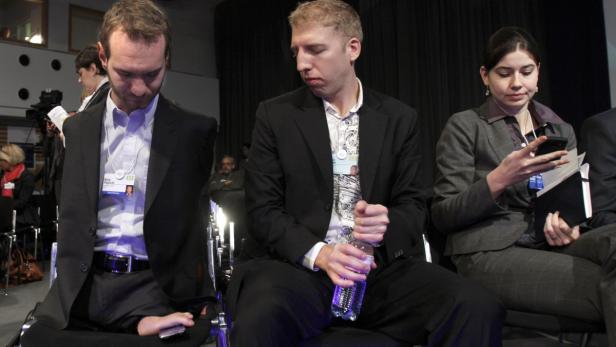 © Bild: dapd(c) AP
dapdFounder and President, Life Without Limbs, Nick Vujicic, left, uses his cellphone during a session on The Global Agenda in 2011 at the World Economic Forum in Davos, Switzerland on Sunday, Jan. 30, 2011. The WEF wraps up its final day of meetings on S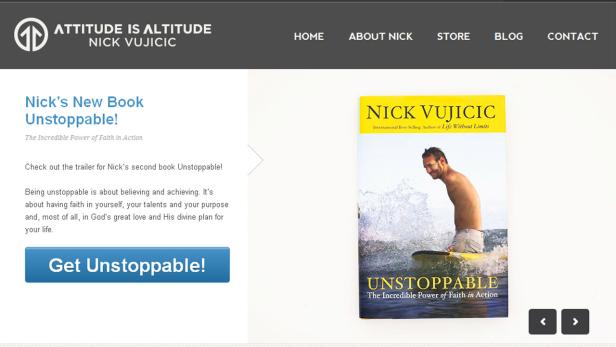 © Bild: Screenshot
Nick Vujicic.
A varied and joyful life
Vujicic constantly uses humor to spread the message that you can overcome any difficulties in life with the right attitude. In numerous YouTube videos, for example, he shows that you can do all kinds of things without limbs including fishing, golfing, swimming, surfing and skydiving.
And he films different jokes, for example when he greeted American Airlines passengers as their pilot. Vujicic does everything not only with joy, but also with an air of confidence and effortlessness that has made him a popular figure among the primarily atheist users of the online forum Reddit.
Tours, books, music
The motivational speaker without limbs now lives in California, where he runs the organization Life Without Limbs. Vujicic also shares his success story in the program Attitude is Altitude, under which he gives presentations to students, teachers and other interested people. In March, Vujicic toured Serbia, Croatia and Slovenia with his motivational program. He is visiting Mexico in April and May.
Vujicic also described his life in a number of books, in DVDs and in his own song. And he played the main role in the short film The Butterfly Circus, in which he escapes his existence as part of a circus freak show.
Vujicic skydiving with his wife Kanae Miyahara.
Social web
Vujicic has gathered an impressive flock of followers in the social media through his many activities. He currently has over 164,000 followers on Twitter and around 890,000 fans on Facebook. Fans recently had two more milestones to celebrate in the life of Nick Vujicic. He married his girlfriend Kanae Miyahara on February 12. Their son Kiyoshi was born one day later.