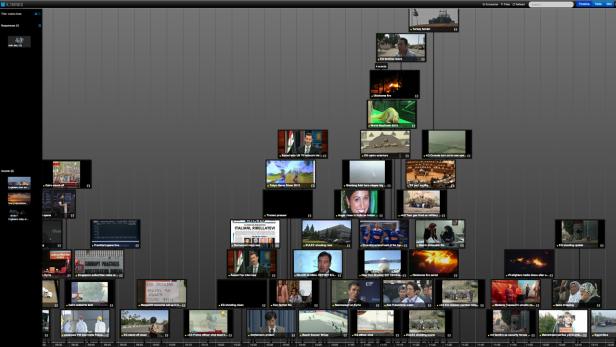 x.news: the newsroom research tool of the 21st century
Dieser Artikel ist älter als ein Jahr!
Newsroom journalists the world over are confronted with the same problem: an overwhelming flood of information. In addition to agency bulletins, agency video streams, web sources, photo services, and archive material, they also use information from social media sites – especially Twitter - in their reporting. And there is growing pressure on all news services – whether on television, radio, or the internet – to supply their audiences with the latest developments as fast as possible, without compromising accuracy and credibility.
The newsroom "story research tool" as it is being called, is being presented at the National Association of Broadcasters Show, currently taking place in Las Vegas. Aside from the fact that this system uses Austrian know-how (x.news was developed by X-Art ProDivision in Burgenland and is being distributed through international partners), x.news combines all data and information in a single user interface.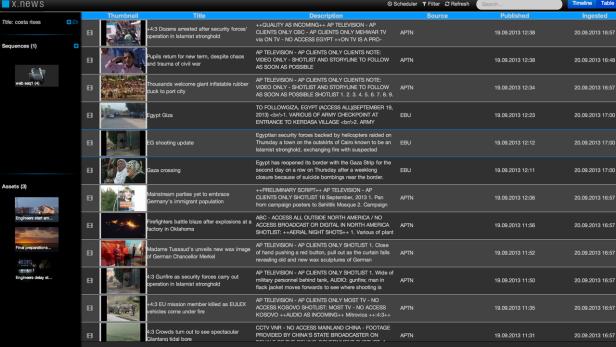 Overview on a single screen
"When newsroom journalists are working on a report today, they may have as many as 20 different windows open," said Joe Trainor, sales director from London. "They have to spend a lot of time hunting down information in different places, which is unproductive". This led to the creation of x-news, a user interface that provides all information in a single location; journalists no longer have to click back and forth between windows, but can get the content for their stories in one place. futurezone got an exclusive look at this newsroom research tool for the 21st century.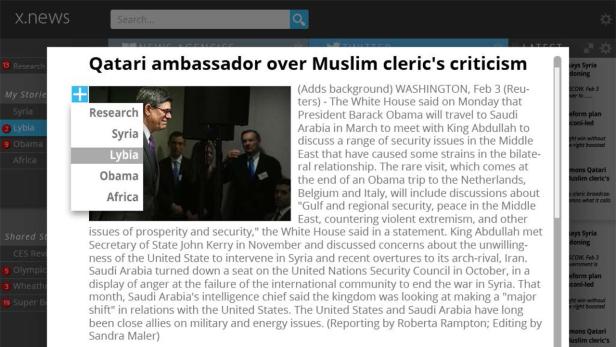 It's about the story
The focus should be on the news story itself, and the story usually evolves constantly – as can be seen in the situation in Ukraine and the hunt for Malaysian flight MH370, for example. The unique thing about the system is that it puts the story at its centre. "Every story is different; there are particular sources and keywords which will unlock the most valuable information, and x.news understands this," Joe Trainor said. Information from social media (predominantly Twitter), videos, audio clips, photos and text sources is pulled in automatically. "Twitter has become a vital – if not always reliable - source of information: over 50% of people now learn about breaking news from Twitter rather than official sources," said X-Art managing director Andreas Pongratz.
Journalists are alerted whenever new information is available, using the familiar round icons that are commonly used for new messages and missed calls on smartphones. But it is still up to the journalist to write their story, and to gauge the reliability of all the information they are receiving. "No system can replace the skill and judgement of a trained journalist, and nor should it," says Joe Trainor.
The system also improves collaboration between individual journalists – an important aim for cash-strapped modern newsrooms. Story searches can be shared, so other colleagues can 'follow' them, allowing those with the greatest expertise to build searches which everyone then benefits from.
More than a broadcast newsroom system
Version 1.2 of x.news, which is also available for the iPad, was presented at the NAB, and version 2.0 is already in development. The search is to cover more media, and to support additional social networks. The way the system is designed, it can equally be used for online or print media, since it includes text and stills as well as video. And many media franchises are beginning to use video clips and online television channels.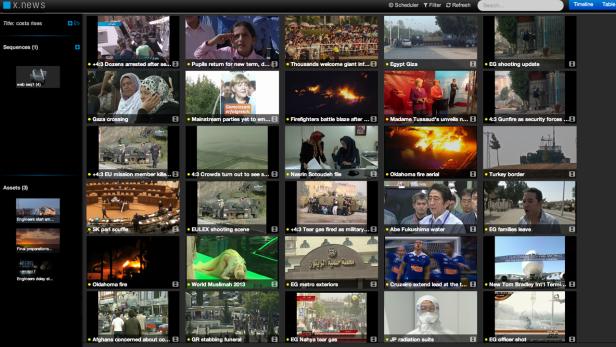 Developed by experienced journalists
The system was developed together with the former head of BBC Newsroom Development, Simon Andrewes, who has first-hand experience of the challenges that broadcast journalists face, and led the formation of the BBC's trimedial central London Newsroom, which disseminates news by Television, Radio and the Internet at the same time. Creating this "trinity" of media is now a common trend among news broadcasters; one of the most modern newsrooms in Europe is at BBC Scotland in Glasgow. The BBC headquarters on the bank of the Clyde River is the quintessential integrated newsroom and was still searching for a suitable research system until recently. There are newsroom systems such as Avid's iNEWS or the newsroom system from ENPS, but these systems focus on publication and not on storytelling. Pongratz is confident that x.news can help improve the quality of editorial content in such 'multimedia' newsrooms.
According to Joe Trainor, it takes 10 days to implement the standard solution in a newsroom. An advantage is that no hardware is needed; x.news is a cloud solution and is operated under a license model.