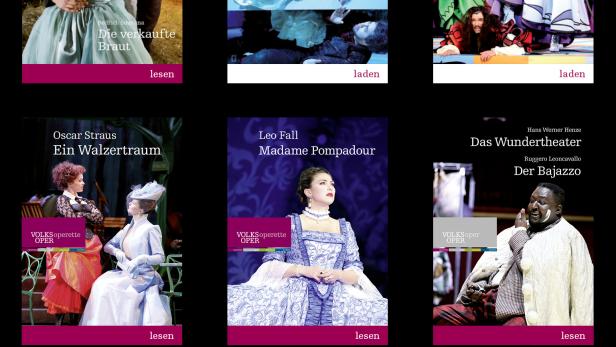 The Vienna Volksoper experiments with digital programs
Dieser Artikel ist älter als ein Jahr!
The Vienna Volksoper wants to make better use of the possibilities of the digital age, and has offered its programs in digital form for smartphones and tablets for a few months now. These not only offer static information about the respective productions in the form of text and pictures, but also include specially produced video clips.
Warming up for the opera evening
"In our fast-paced times, few people can really get ready for an evening at the opera. The idea is that visitors can download the digital programme on the way to the Volksoper and get a brief overview of the piece and the performing artists in just 15 minutes while in the tram or subway," Christoph Ladstätter, business director of the Volksoper, told futurezone.
The associated app is available free of charge for Apple iOS in the App Store and for Android devices in the Google Play Store. The digital programs cost 89 cents each, about two euros less than the printed evening program. According to Ladstätter, the number of downloads for the apps (besides the programs, the Volksoper also has a free newsletter app (iOS link)) is still rather modest. But that wasn't the goal anyway, he said. It is more important to keep pace with technological developments and to optimally use the opportunities provided by new media.
No reading during the performance
Ladstätter sees no danger that numerous members of the audience will read the program on their bright phone displays during the performance: "People are quite good about mobile phones during the performances, especially in the Volksoper. Up to now, programs have generally been read before and after the performance and during the break. Once the show starts, the people are usually captivated by what is happening on the stage." He added that the trend towards mobile helpers like smartphones and tablets cannot be stopped anyway, and that an opera must accept this. "I have heard that there are sometimes complaints in the audience at the Vienna State Opera because people read the score on their tablets in the dark," Ladstätter said.
The Volksoper wants to use the new media for other purposes, for example to attract new groups of the population that would not otherwise go to an opera. In addition to the now obligatory Facebook presence, the Volksoper produced its own flashmob video at West Rail Station with excerpts from the Carmina Burana that has been viewed over 1.6 million times on YouTube. "The new forms of communication are exciting because you have an unbelievable multiplication effect and can reach a great number of people with relatively little effort," Ladstätter said.