B-52: Nach über 60 Jahren kein Ende in Sicht
Im April 1952 startete der erste B-52-Bomber. Ein Fortbestand des Flugzeugs bis 2040 ist absolut denkbar.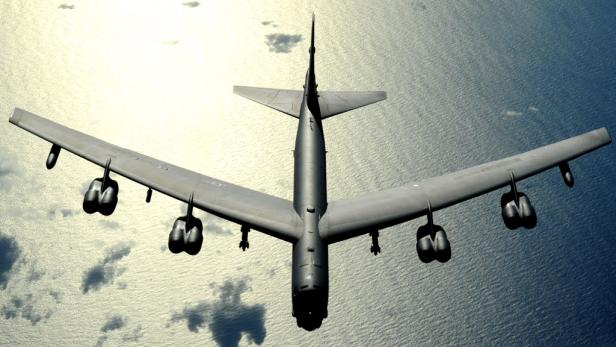 36th Operations GroupA B-52 Stratofortress flies a routine mission Nov. 12 over the Pacific Ocean. The B-52 is deployed from Minot Air Force Base, N.D., to Andersen AFB, Guam, and is part of a continuing operation of maintaining a bomber presence in the r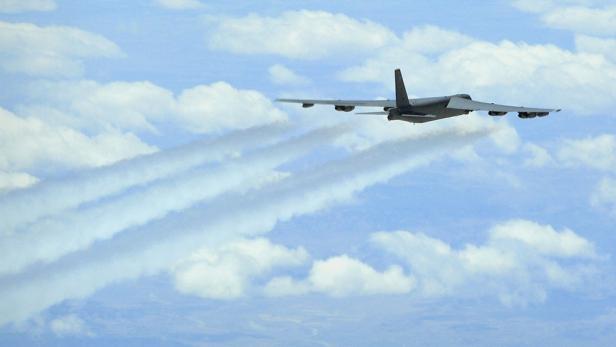 1CTCSA B-52 Stratofortress flies April 20, 2011, during an eight-hour sortie to practice bomb-dropping sequences and aerial refueling. (U.S. Air Force photo/Staff Sgt. Andy M. Kin)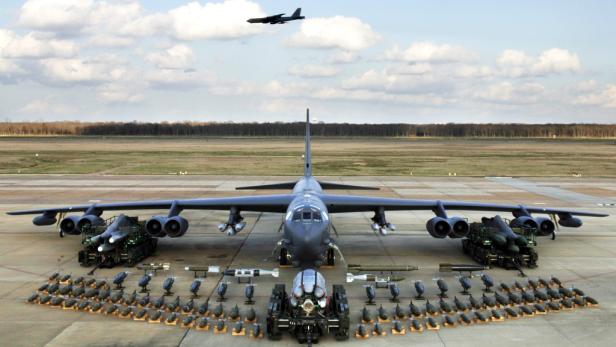 BARKSDALE AIR FORCE BASE, La. (AFPN) -- Munitions on display show the full capabilities of the B-52 Stratofortress. (U.S. Air Force photo by Tech. Sgt. Robert J. Horstman)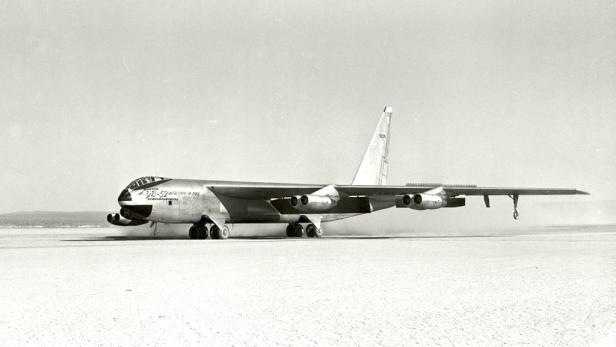 The YB-52 from North American lands on Rogers Dry Lake, Calif., in 1953 (U.S. Air Force photo)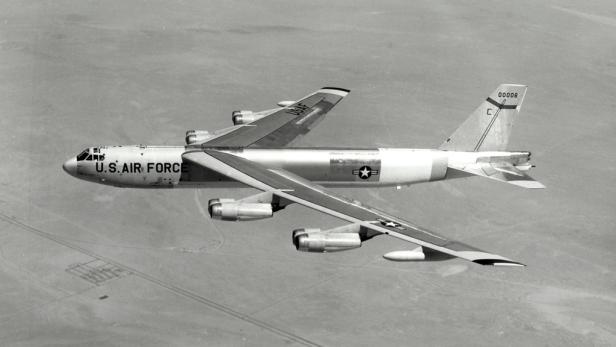 The B-52H Stratofortress, the last model for the classic strategic bombers, underwent test and development at Edwards Air Force Base, Calif., in the early 1960s. The aircraft today remains a vital component of Americans long-range power projection capabil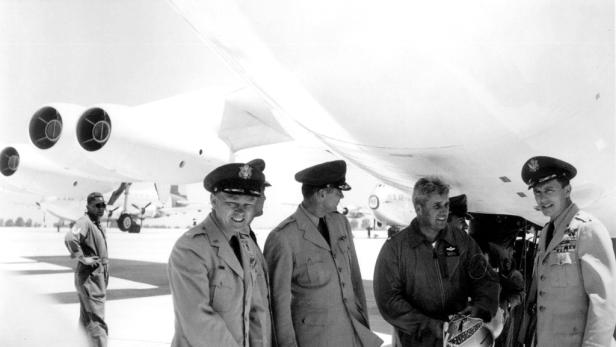 CASTLE AIR FORCE BASE, Calif. -- Retired Brig. Gen. William Eubank, the 93rd Bomb Wing commander, talks with Air Force officers on the flightline here after the first B-52 Stratofortress operational flight June 29, 1955. (U.S. Air Force photo)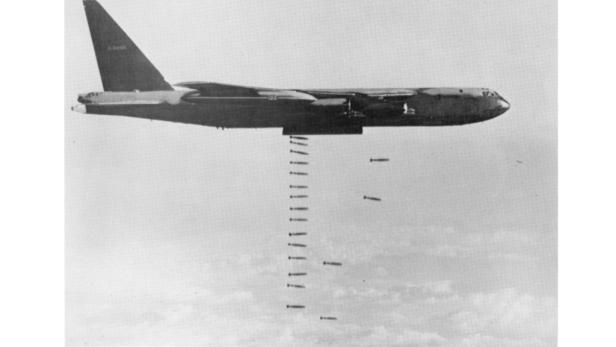 A B-52D Stratofortress from the 93rd Bombardment Wing at Barksdale Air Force Base, La., drops bombs. B-52Ds were modified in 1966 to carry 108, 500-lb bombs while the normal conventional payload before was only 51. (Historical U.S. Air Force photo)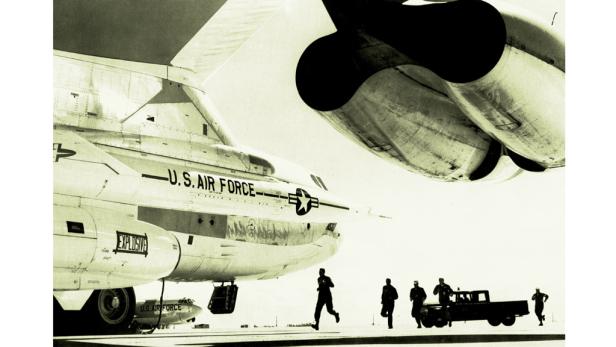 Members of a Strategic Air Command combat crew race for their always ready-and-waiting B-52 Stratofortress. Fifty percent of the SAC bomber and tanker force was on continuous ground alert, ready to be en route to target within the warning time provided by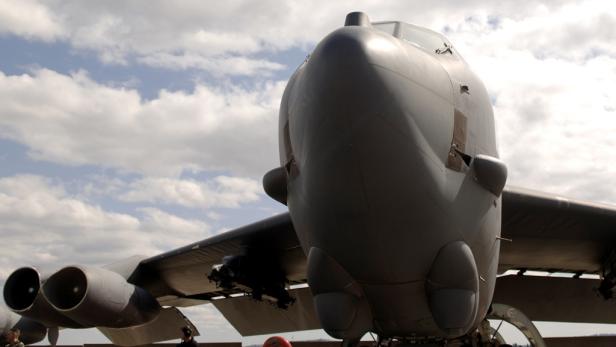 Six B-52 Stratofortress bombers are temporarily visiting Fairchild Air Force Base, Wash. The aircraft were evacuated from Andersen AFB, Guam, due to typhoon warnings. Once the severe typhoon danger has passed, they will return to Andersen. (U.S. Air For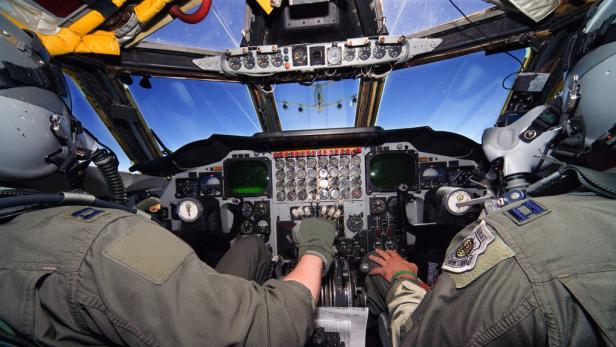 A B-52 Stratofortress crew prepares to take fuel April 16 from a KC-135 Stratotanker during a training mission. The B-52 from Barksdale Air Force Base, La., is one of eight long-range, subsonic, strategic bombers belonging to the 917th Wing. (Courtesy pho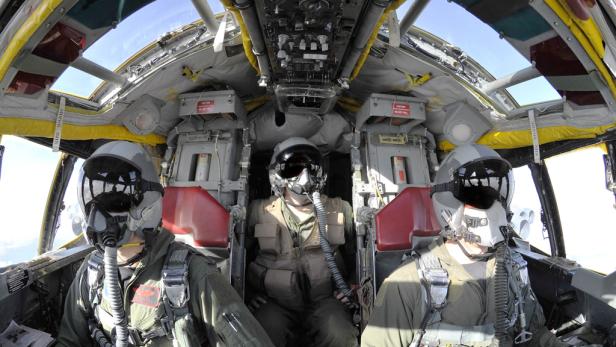 Staff Sgt. Christopher BoitzAn aircrew assigned to the 96th Bomb Squadron at Barksdale Air Force Base, La., flies a Red Flag-Alaska mission in a B-52H Stratofortress, April 29, 2010, at Eielson AFB, Alaska. (U.S. Air Force photo/Staff Sgt. Christopher Boi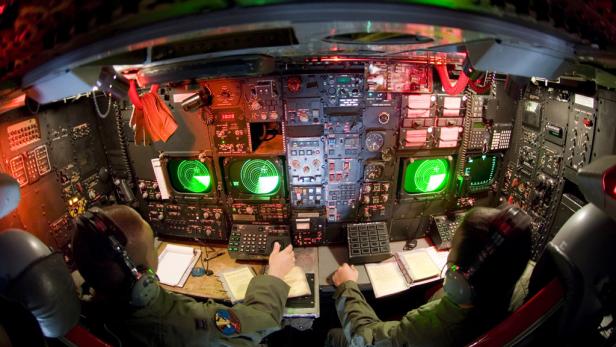 Capt. Jeff Rogers (left) and 1st Lt. Patrick Applegate are ready in the lower deck of a B-52 Stratofortress at Minot Air Force Base, N.D., on Aug. 21. The officers are with the 5th Bomb Wing at Minot AFB. (U.S. Air Force photo/Master Sgt. Lance Cheung)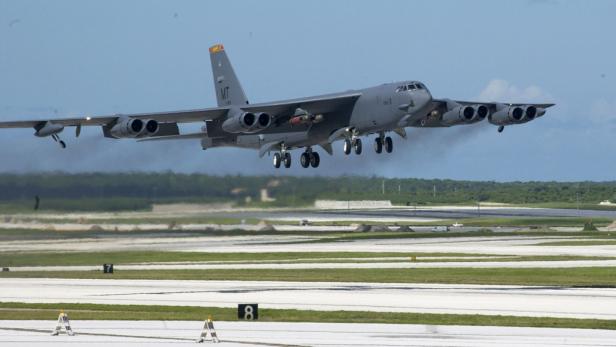 A B-52 Stratofortress takes off from Andersen Air Force Base, Guam, Nov. 3 armed with four Mk 56 mines. This sortie was the 10th and final mission of a week-long joint sea mine-laying exercise with the Navy. The B-52s dropped a total of 96 inert mines on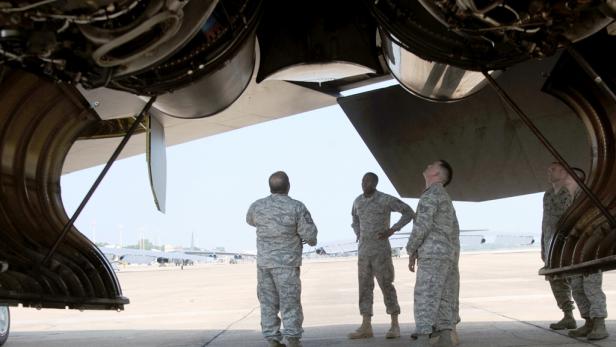 Airmen from the 2nd Maintenance Squadron inspect a B-52H Stratofortress at Barksdale Air Force Base, La., during a pre-flight maintenance inspection in preparation of the Global Strike Challenge competition. Senior leaders at Barksdale selected the compe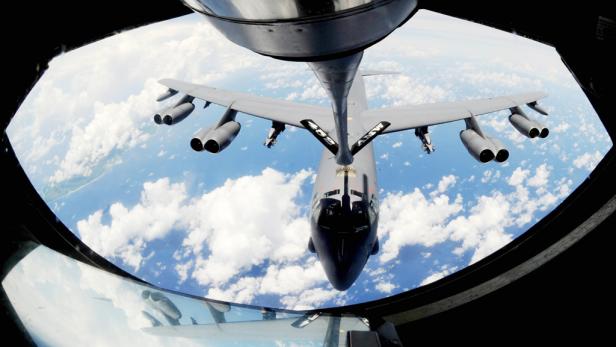 36th Wing Group Public AffairsA B-52 Stratofortress approaches the boom of a KC-135 Stratotanker over the Pacific Ocean Aug. 14, 2009. The bomber is taking part in the 2009 Inaugural Turkey Shoot with KC-135s and F-22 Raptors. The event allows air expedit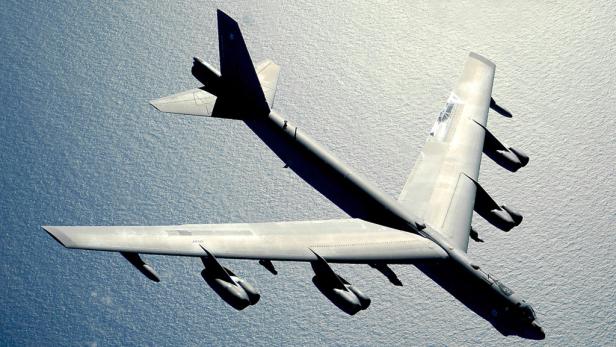 The U.S. Senate ratified the new Strategic Arms Reduction Treaty Dec. 22, 2010, with the intent of leveling the nuclear arms playing field between the U.S. and Russia. The treaty allows U.S. and Russian officials to conduct as many as 10 "type 1" inspecti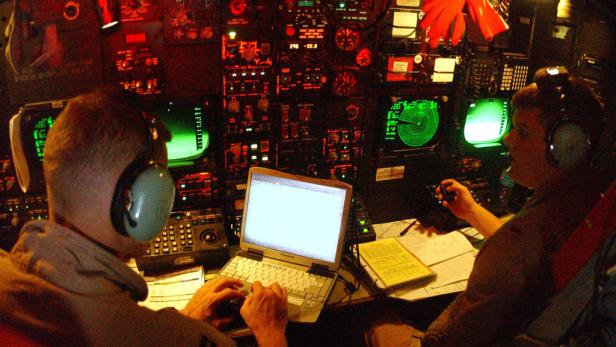 40th Air Expeditionary WingOPERATION IRAQI FREEDOM -- B-52 Stratofortress navigators track mission progress during an Operation Iraqi Freedom bombing mission. The venerable B-52 continues to prove its worth in the coalition air campaign for Operation Ira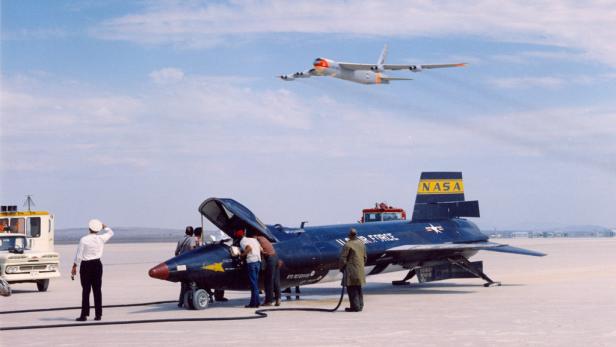 One of three X-15 rocket planes from North American rests on Rogers Dry Lake, Calif. in September 1961, following a mission. The B-52 launch aircraft flies overhead. (Courtesy NASA photo)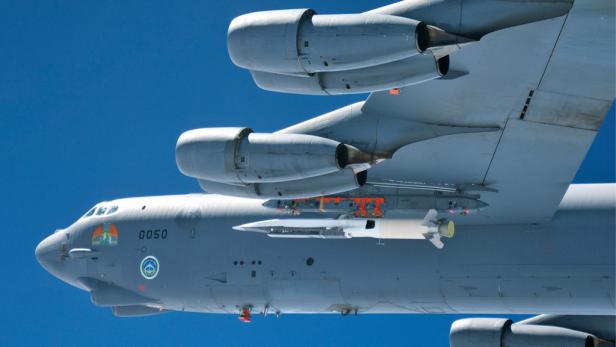 An Air Force Flight Test Center B-52 Stratofortress from Edwards Air Force Base, Calif., carries an X-51A Waverider prior to the scramjet's first hypersonic flight test on March 26, 2010. Air Force engineers have made design modifications to the three r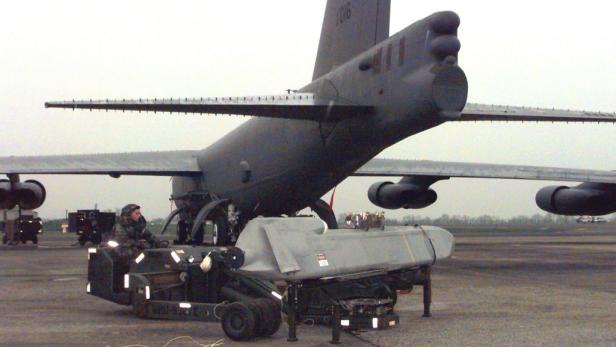 An airman secures an Air Launch Cruise Missile(ALCM) during a maintenance inspection aboard a B-52H Stratofortress, at RAF Fairford, UK, Mar. 25, 1999. He is assigned to the 20th Bomb Wing, Barksdale AFB, La., and is deployed to RAF Fairford in support o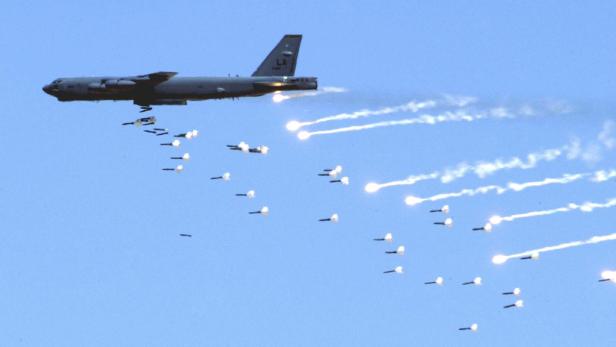 NELLIS AIR FORCE BASE, Nev. -- A B-52 Stratofortress from Barksdale Air Force Base, La., drops live ordnance over the Nevada Test and Training Range near here May 12 during an Air Force firepower demonstration. The demonstration showcases the Air Forces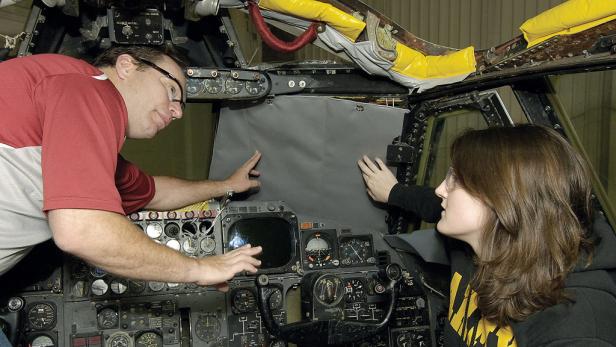 Matthew Yost and Jennifer Hoffman discuss a prototype B-52 Stratofortress thermal curtain they hold in front of a cockpit window Dec. 6 at Tinker Air Force Base, Okla. Reflective on the outside and rubberized on the inside, the curtains will protect aircr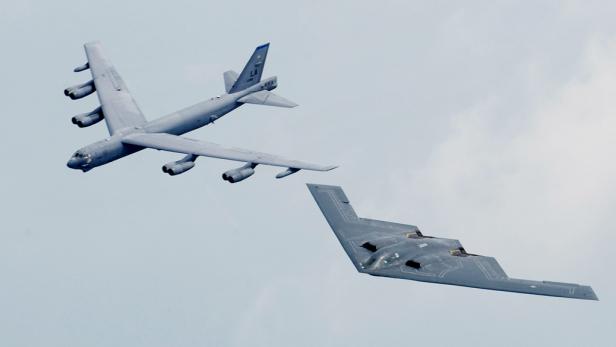 DSN 574-5701Air Force Global Strike Command officials assumed responsibility for the Air Forces nuclear-capable bomber force, including the B-52 Stratofortress and B-2 Spirit shown here, Feb. 1, 2010. This action completes the step-by-step transfer of all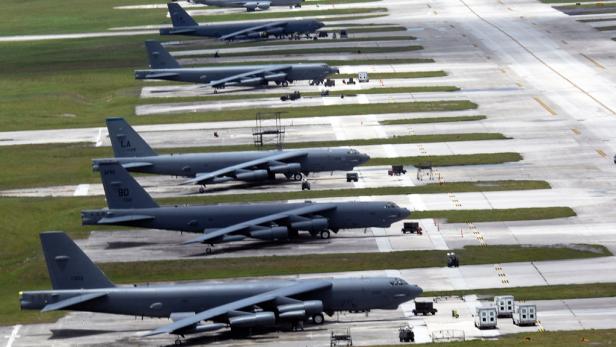 Air Force fighters, bombers, tankers and air control aircraft occupy the flightline at Andersen Air Force Base, Guam. The aircraft, deployed from several Air Force bases, are here to promote regional security and stability in the region. (U.S. Air Force p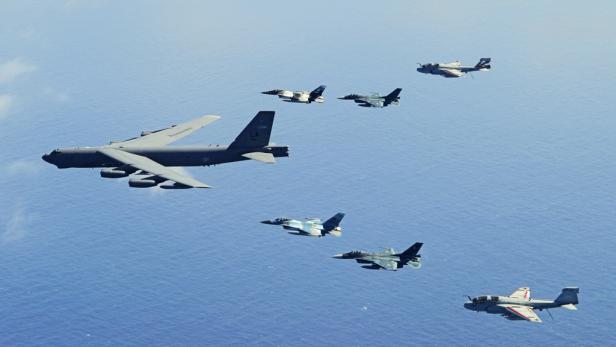 A B-52 Stratofortress leads a formation of two F-16 Fighting Falcons; two Japan Air Self-Defense Force F-2 attack fighters and two U.S. Navy EA-6B Prowlers Feb. 15, 2010 near Guam during Exercise Cope North. (U.S. Air Force photo/Staff Sgt. Jacob N. Bail
Wir würden hier gerne eine Newsletter Anmeldung zeigen. Leider haben Sie uns hierfür keine Zustimmung gegeben. Wenn Sie diesen anzeigen wollen, stimmen sie bitte Piano Software Inc. zu.