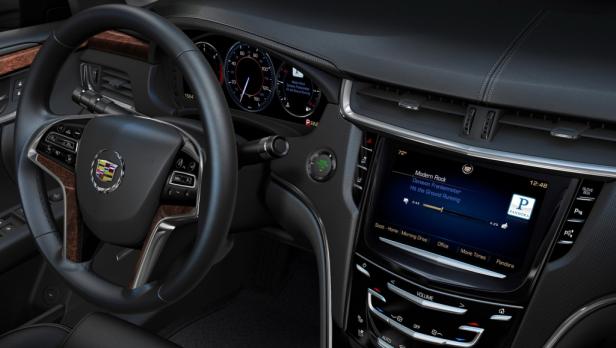 Cadillac CUE integrates interior design with industry-first control and command technologies. It will debut in 2012 in the ATS and XTS luxury sedans and SRX luxury crossover, and features a 1.8 liter storage compartment behind the main system touch screen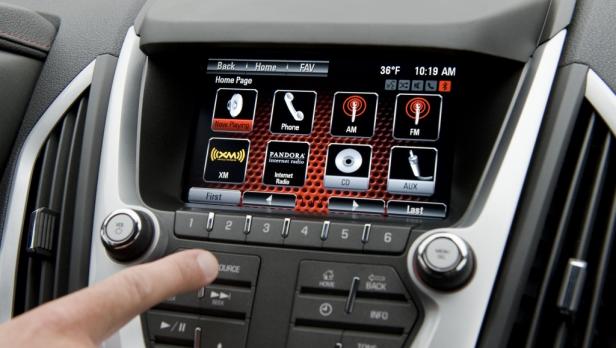 The 2012 GMC Terrain will be the first vehicle to offer GMC IntelliLink, which uses Bluetooth or USB to connect the driverÕs smartphone to TerrainÕs new seven-inch, high-resolution, full-color touch screen display radio. IntelliLink allows smartphone co
Auch bei der Schwester-Marke GMC gibt es bereits Apps im Auto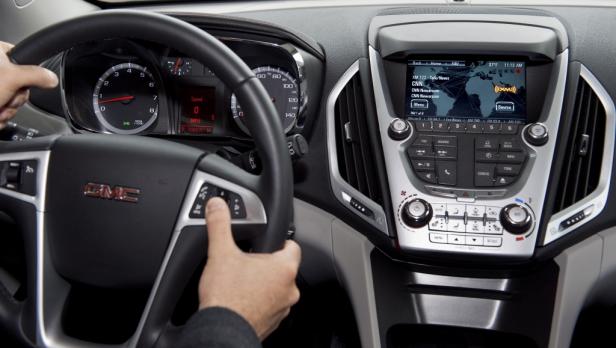 The 2012 GMC Terrain will be the first vehicle to offer GMC IntelliLink, which uses Bluetooth or USB to connect the driverÕs smartphone to TerrainÕs new seven-inch, high-resolution, full-color touch screen display radio. IntelliLink allows smartphone co
Die Funktionen können auch mit Knöpfen am Lenkrad bedient werden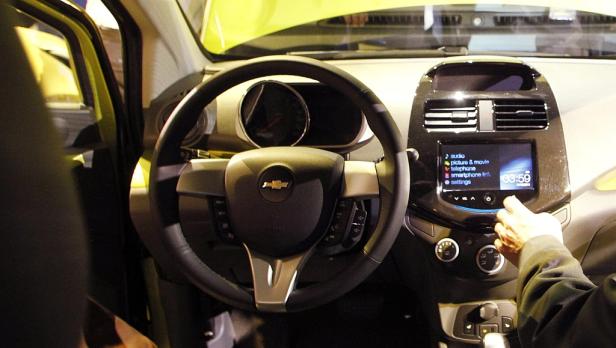 REUTERSA man looks at the color touch screen inside the 2013 Chevrolet Spark after it was unveiled at the LA Auto Show in Los Angeles November 16, 2011. REUTERS/Danny Moloshok (UNITED STATES - Tags: TRANSPORT BUSINESS)
Chevrolet setzt auf Hardware von LG, die Software ist auf Basis-Funktionen reduziert.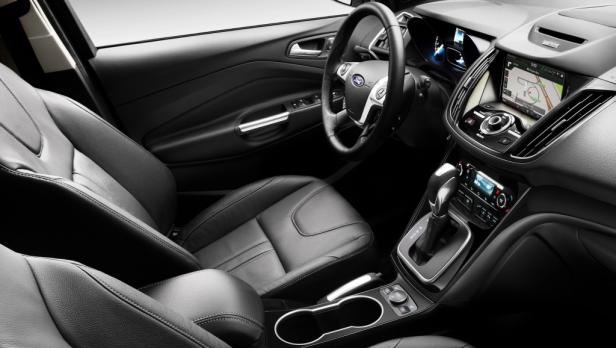 This product image provided by the Ford Motor Co., shows the interior, dash area, of the 2013 Ford Escape. The 2013 Ford Escape sport utility vehicle brings clever technologies and features designed to make life easier with projected class-leading fuel ec
Ford ist mit seinem Sync-System in den USA Vorreiter bei Apps und Web-Zugang. Jetzt soll der europäische Markt erobert werden.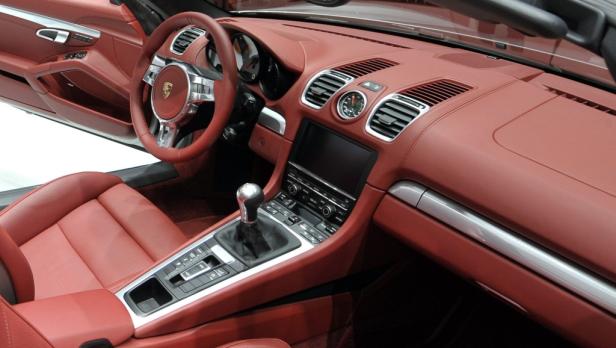 The new Porsche Boxster Cabriolet car is shown during the press day at the 82st Geneva International Motor Show in Geneva, Switzerland, Tuesday, March 6, 2012. The Motor Show will open its gates to the public from 8th to 18th March presenting more than 26
Porsche setzt auf bei der Software auf geschlossene System von QNX.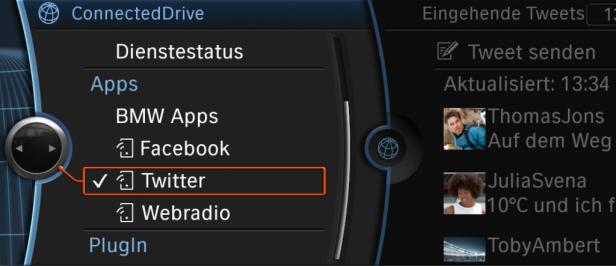 BMW ConnectedDrive: BMW Apps - The function Twitter of the App "BMW Connected"
Bei BMW erfolgt die Bedienung über ein Drehrad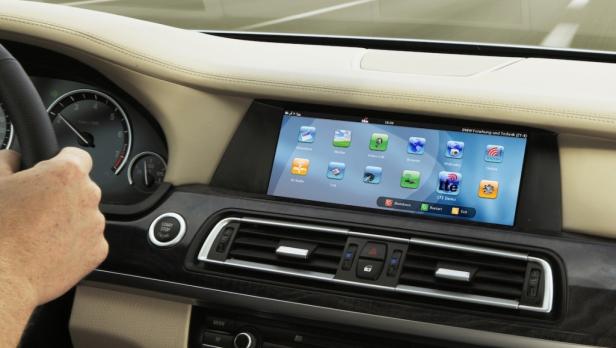 BMW Apps
Konzepte mit Touch sind in Planung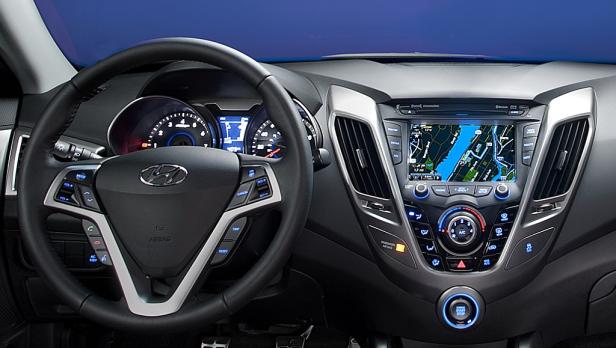 Hyundai Veloster
Hyundai arbeitet ein einer Entertainment- und Telematik-Lösung, die auch Unfall-Service wie etwa bei BMWs Connected Drive liefert.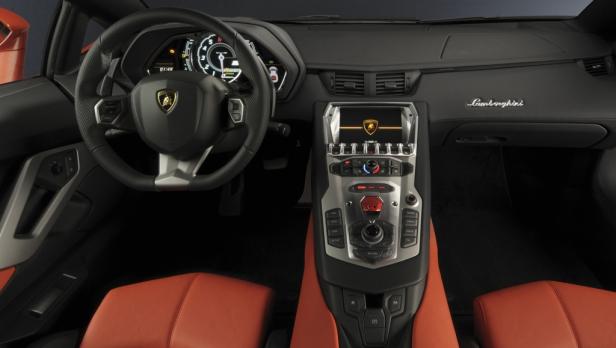 lamborghini
Beim Lamborghini Aventador ist das Display digital und wird von Nvidias Tegra-Chip angetrieben. Die Bedienung des Bord-Systems funktioniert noch via Drehknopf
Wir würden hier gerne eine Newsletter Anmeldung zeigen. Leider haben Sie uns hierfür keine Zustimmung gegeben. Wenn Sie diesen anzeigen wollen, stimmen sie bitte Piano Software Inc. zu.